Kaieteur Falls Overland 5 Day Trek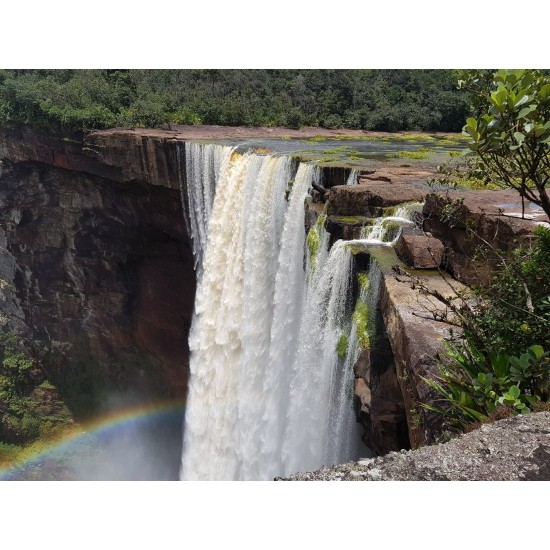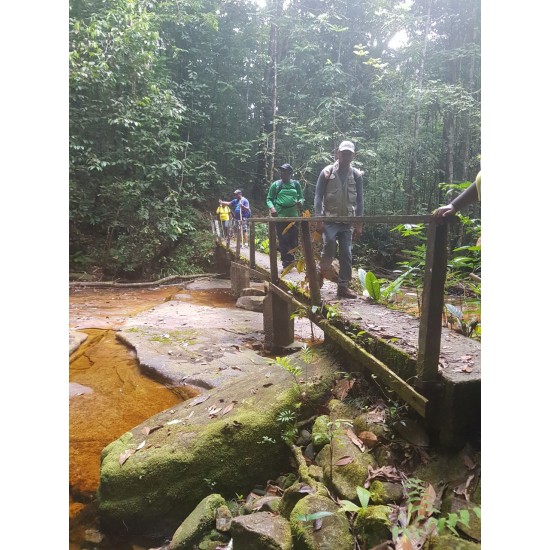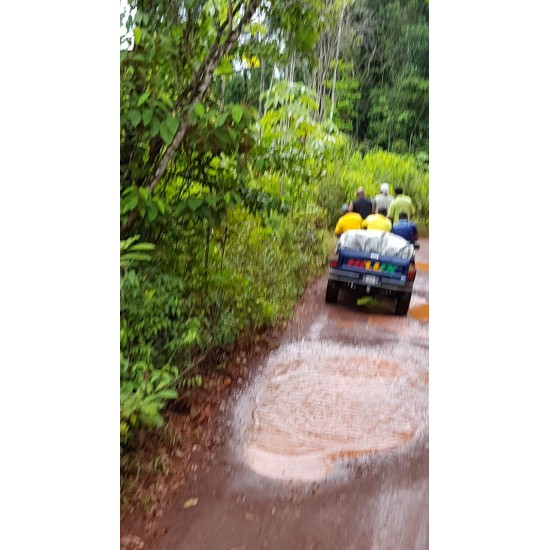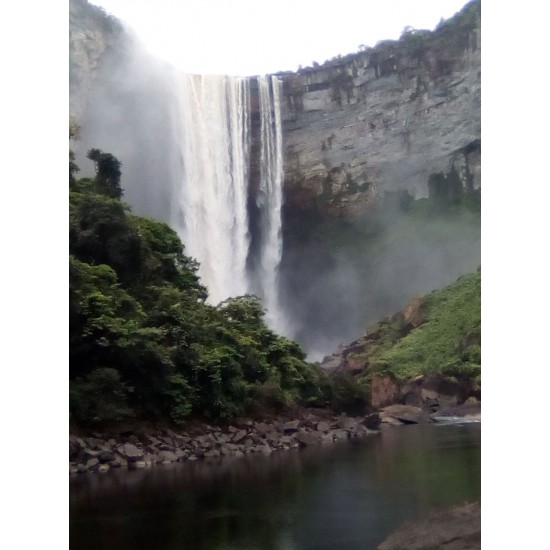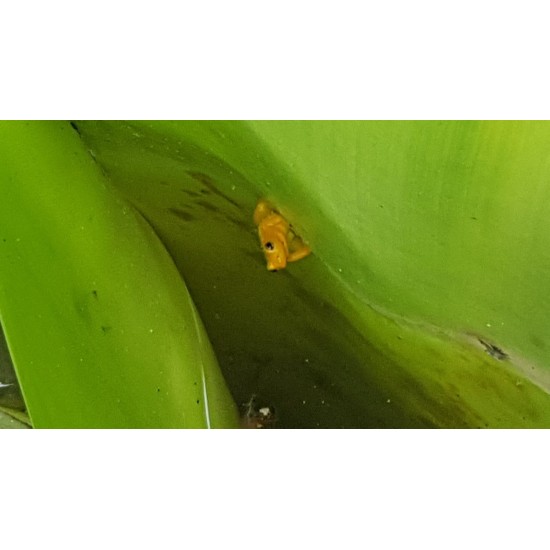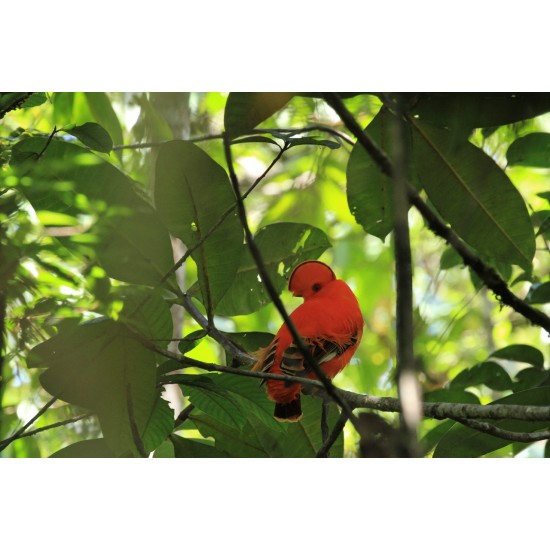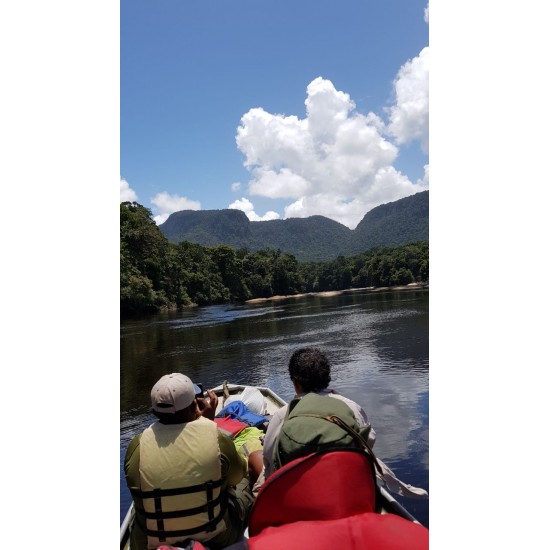 Latest Tours






Kaieteur Falls Overland 5 Day Trek
Model:

Kaieteur Falls Overland 5 Day Trek
DAY 1
8:30hrs board flight which takes you over hundreds of miles with a view of tropical rainforest and eventually landing at the
airstrip in the Bustling Gold/Diamonds mining town of Mahdia.
From the airstrip, you will board your 4X4 vehicle and a short drive will take you to a local restaurant for lunch. After lunch, your
journey continues to Pamela Landing where you travel by boat for approximately 2 1⁄2 hours to Amatuk. Here, on this beautiful
island of white sand with the 170 ft drop Amatuk falls just a few yards away, you camp for the night. A refreshing bath in the
river and sumptuous meal is all you need before climbing into your hammock. The fresh, clean air will soon render you fast
asleep. Overnight at camp
Day-2
The next day you leave by foot, trekking through the jungle, swimming across creeks and walking across jungle bridges (tree
trunks), and a short boat-ride through the rapids and you arrive at Waratuk where you transfer to an another Boat
You set off either on foot for a 4hrs hike or 1hr boat ride to Tukiet with the enigmatic Ibini mountain range in a distance as your
constant companion. We will arrive at Tukiet, the bottom of Kaieteur Falls. This is a fabulous Guesthouse with refreshing
swimming in the Potaro River and a spectacular view of the gorge. Overnight at Tukiet in a hammock. Breakfast, Lunch, Dinner
Day-3 & 4
From Tukeit you will ascend the mountain to the top of Kaieteur fall – 3hrs hike. The ascent winds its way up the mountain
through changing vegetation as the altitude rises. You will pass cool mountain streams where it is impossible to cross without a
dip. The final stage of the climb is known as 'Oh my God' mountain. Did you say that you liked challenges? This climb will
challenge you both physically and mentally. With your backpack strapped securely unto your back and your water bottle within
easy reach, you begin your ascend quite smartly. But on reaching the top all is forgotten as you catch your first glimpse of the
mighty Kaieteur Falls. The feeling of achievement is indescribable as you proudly view the grandeur of the mighty Kaieteur
Falls, the highest single-drop waterfalls in the world. At dusk, thousands of swifts gather the sky like dark clouds then plunge
into the water of the fall, to their nesting site on the rock face behind the waterfall.
The second day Visit Kaieteur Falls Park and its surroundings. Overnight at Kaieteur Guest House in a hammock. BLD
DAY 5
The early morning mist of Kaieteur fall gives way to a fantastic view of the falls. From Johnson View that affords frontal vista
of the falls, We will try to have a look at the Cock-Of-The Rock. The golden frog can easily be seen in the giant tank
Bromeliads in this area the frog spends its entire life from tadpole to maturity in the Bromeliad. This afternoon a light aircraft
will fly you from Kaieteur Falls to Mahdia Airport (3 Hours ground time) & unto Georgetown. (Ogle Airport) Breakfast, lunch.
INCLUSIONS
River and Air Transportation.
Kaieteur National Park Fees.
Kaieteur Guest house fees.
All Meals on Tour.
Tour Guide.
Hammocks. (For Sleeping)
Duration: 38 Hr. (Total Tour)
Adult: 18 - Years old and over
Kids: (NO KIDS)


What To Wear and Carry
Comfortable clothing, generally normal sportswear.

Good Hiking Boots.
Extra Clothing.
Your Medication if needed.
Closed-toe sneakers.



Important Information


The airline's new baggage allowance is 15-lbs. Over 15-lbs Passengers will have to pay $1.00 USD for each pound at Mahdia Airport.